Health Dept Leh celebrates 100 crore vaccine achievement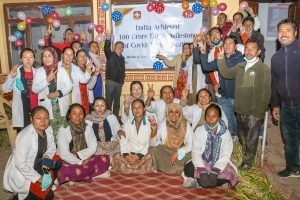 Leh, Oct 21: India achieved the milestone mark of 100 crore vaccine doses against Covid-19 today. This major achievement against Covid-19 was celebrated by the Health Department, Leh at its different Primary Health Centres.
The Health Department, Leh celebrated the achievement of 100 crore vaccination by illuminating the Primary Health Centres (PHC) at Chuchot and Thiksay. PHC Chuchot, celebrated the event in the presence of Chief Medical Officer, Leh, Dr Motup Dorjey and the medical staff. PHC Thiksay commemorated the event under Deputy Chief Medical Officer, Leh, Dr Manzoor ul Haq and Medical Officer, PHC Thiksay, Dr Naushin and the concerned staff of the PHC.
Similarly, Sub-District Hospital, Diskit, Nubra also celebrated the achievement of the 100 crore vaccination mark.