Health Department organizes program on school health, wellness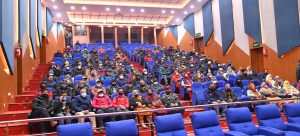 KARGIL, MARCH 16, 2022: Health Department Kargil today organized an orientation program on School Health and Wellness under Ayushman Bharat at Auditorium, Kargil.
On the occasion, headmasters of middle and high schools of Kargil district participated.
Dr Abdul Jalil gave a detailed presentation on various health issues.
The teachers were provided training on safety and security, mental health, interpersonal relationship, gender equality, nutrition, health, sanitation, prevention and management of substance abuse, promotion of healthy lifestyle, reproductive health and HIV, growing healthy, promotion of safe use of Internet and social media, values and citizenship.
Pertinently, the teachers will accordingly teach children health awareness at school in weekly orientation sessions.
Once the children get awareness in schools, they also will function as messengers to their families and communities to spread awareness regarding these health issues.