Governing body discusses issues and plans strategies for strengthening LREDA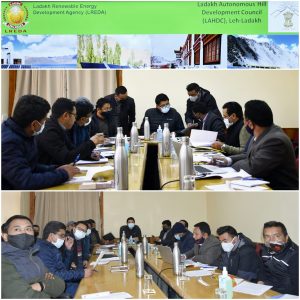 Leh, April 21: The Chairman/CEC, LAHDC Leh, Advocate Tashi Gyalson who is also the Chairman of the Governing body of Ladakh Renewable Energy Development Agency (LREDA) chaired the Governing Body meeting of LREDA at the Council Secretariat, Leh today to discuss issues and plan strategies for the strengthening of LREDA.
Project Director LREDA, Nisar Ahmed welcomed the house and gave a power-point presentation on the work done so far under LREDA and discussed future plans and proposals for considerations. He apprised the house of the successfully commissioned and inaugurated Solar Power Plants (SPP) at Turtuk, Hanle-Pungog, Hanle-TR, Rebel Sumdo, Dipling, 169 Solar Street lights from Chuchot Yokma to Gongma, the first-ever Rooftop SPP at SWM Plant in Skampari Leh and Hydro project at Chamshen, Nubra.
The meeting discussed major agenda points which include the requirement of Service Charge for projects by LREDA, Strengthening/Improvement of Transmission lines for Hydro Projects, Approval for new MHP at Sasoma, Approval for the expenditure of LREDA revenue/balance payments for meeting salary requirements and office expenses and the requirement of manpower at LREDA.
The meeting approved few sustainable projects with the consent of all the Governing body members of LREDA and also allowed to cover up pending revenue issues from the liabilities of executed projects. The house also took decisions on important issues and had a wide discussion to find unanimous solutions at certain necessary points.
Dy Chairman, LAHDC Leh, Tsering Angchuk; DC/CEO LAHDC Leh, Shrikant Suse who is also the Vice-Chairman of LREDA; Executive Councillor for Minority Affairs, Ghulam Mehdi Ashoor; Executive Councillor for Animal & Sheep Husbandry, Tashi Namgyal Yakzee; Executive Councillor for Agriculture, Stanzin Chosphel; I/C PWD Leh, Nisar Ahmed; SE PDD, Tsewang Paljor; Xen PDD, Tundup Spalzang; CCF LAHDC Leh, Jigmat Namgail; Project Director, LREDA, Nisar Hussain along with Project Engineers of LREDA were present during the meeting.