Governing body approves plan of Rs. 167.25 Cr for Samagra Shiksha in Ladakh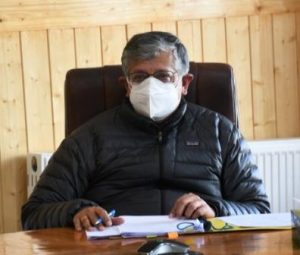 Leh, May, 11: Advisor Ladakh, Umnag Narula chaired the Governing Body meeting of 'Yountan Society' Single Implementing Society (SIS) for Samagra Shiksha today at the UT Secretariat.
Various intervention wise projections under Samagra Shiksha and achievements were discussed in detail.
Talking about the achievements, the meeting was informed about the various initiatives taken by the department including mega community campaign on enrolment drive in the catchment area of 27 Higher Secondary School and 57 High School and 9 zones of UT Ladakh, 99% of teaching faculties of UT Ladakh completed NISHTHA Program on DIKSHA in which around 4,500 teachers completed all the 18 modules, conducted 2049 online classes for students and inaugurated three girl's hostels, two in Leh and one in Kargil. Also, informed that career counselling and student helpline portal was launched in all High and Higher Sec. Schools.
Further, the meeting was informed that a training programme- 'IMPACT' for capacity building of teachers was conducted by NCERT which was attended by 3600 teachers of UT Ladakh. It was further informed that 844 (542 schools of Kargil and 302 of Leh) district provided funds under the School grant.
Regarding the vacant post, it was informed that 23 vacancies of Principles, 145 lecturers and 5 ZEOs were filled up.
While briefing about next year plan, the meeting was informed that the next year plan includes providing textbooks, uniform, setting up of six new 100 bedded hostels, tablets for teachers, provision for Covid mitigation measures in schools, strengthening of the existing infrastructure of schools, quality interventions, setting up of ICT labs, teachers training and providing of special educators for out of schools CWSN schools.
Besides, it was also informed that 13 more schools have been proposed to be brought under vocationalization of School Education and also planning to strengthen the vocational education infrastructure of existing 29 Schools. Further, it was informed that physical and sports infrastructure to be improved, strengthening of infrastructure of DIETs to make it centre of excellence.
Deputy Commissioner, Kargil was directed to project the ongoing works of two KGBVs of Kargil under languishing projects. It was discussed that the issue of funds of the projects approved by PAB during 2018-19 and prior to that which could not commence till 31-10-2019 is to be taken up with J&K for transfer of funds.
Deputy Commissioner/CEO LAHDC Kargil was directed to clear all the pending land issues of various projects to be executed under Samagra Shiksha. DCs were asked to get the village wise/ Panchayat wise data of out of school children and ensure 100% enrolment in the schools of the respective districts and get the report/certificate from PRIs on this account.
Director School Education was asked to expedite the process of hiring manpower under Samagra Shiksha. Besides, School Education Department was directed to take up the matter of untrained teachers with IGNOU for allocating the slots for B.Ed./ D.El.Ed. Further, the meeting was informed that the online classes/community classes be reviewed and assessed by respective Deputy Commissioners/CEO LAHDCs.
In the end, the annual work plan and budget for the year 2021-22 amounting to Rs. 167.25/- Crores (One Hundred Sixty-Seven Crores Twenty-Five Lacs only) was approved for submission to the Project Approval Board (PAB-2021), Ministry of Education, New Delhi for their consideration.
Earlier Mohd. Mumtaz Ali, Director School Education/ Additional Project Director Samagra Shiksha Ladakh gave a detailed presentation of the activities and AWP&B 2021-22.
The meeting was attended by Ajeet Kumar Sahu, Commissioner/Secretary School Education/Project Director Samagra Shiksha UT Ladakh; Deputy Commissioner/CEO LAHDC Leh/Kargil; Director School Education Department/APD Ladakh; Representative of Finance and Planning, Development and Monitoring Department; Chief Education Officer Leh/Kargil and Assistant Secretary, JK BOSE Leh. Kacho Isfindyar Khan, IAS Retd. (Member), E.S. Gergan (Member) were also present in the meeting.