GMDC Zanskar organizes one day extension lecture on biodiversity of Ladakh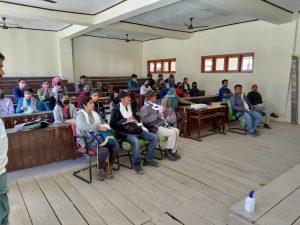 KARGIL, AUGUST 25, 2021: As a part of the series of programmes set in the calendar of events for the year 2021, Government Model Degree College (GMDC) Zanskar organised one day extension lecture on the theme 'Biodiversity of Ladakh' at the college campus here on Tuesday.
Dr G S Rawat, Scientist and Former Dean Wildlife Institute of India (WII) Dehradun was the chief guest on the occasion.
Around 40 students and faculty members participated in the programme.
Dr Rawat spoke extensively on the biodiversity of Ladakh, its uses and consequences of over exploitation and added that Ladakh is a combination of 4 eco zones viz; Zanskar close to the Greater Himalaya, Kargil and Western Ladakh, Leh and Nubra and Changthang Region. He spoke about the unique ecological services these regions provide to the Ladakhi people and stressed on the importance of conserving biodiversity of these different regions through involvement of local people as key stakeholders.
Dr Rawat also promised that next year his team will include some faculty and students of the college for field tour and will also initiate some avenues of research for them.
The programme was coordinated by Dr. Abdul Hamid Assistant Professor Environmental Science who briefly introduced the speaker to the audience and deliberated about the theme of the lecture.
Meanwhile, Principal GMDC Zanskar Nasir Shabani expressed gratitude to Dr Rawat for sparing his valuable time for interacting with the college students and faculty members. Earlier the guest speaker made a round of the college laboratories and library where the principal appraised him about the facilities available to the students.
Dr G S Rawat appreciated the efforts of Principal and faculty members for the extensive facilities made available in a remote location like Zanskar and said that such facilities rarely seen even in colleges in metropolitan cities.