GMDC Zanskar holds seminar on human wildlife co-existence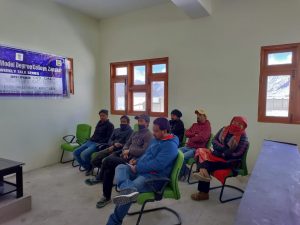 KARGIL, OCTOBER 27, 2021: Government Model Degree College (GMDC) Zanskar in collaboration with Wildlife Conservancy Trust India today organized one day seminar titled Human Wildlife Coexistence in the college premises here today.
Around 50 students and faculty members participated in the day-long program.
Kirti Chavan, researcher and conservationist associated with the trust delivered a lecture on the topic and spoke extensively about the wildlife of Zanskar. He particularly spoke about the Himalayan Brown Bear on which he has been working for the last 4 years in Zanskar and shared valuable information about the evolutionary history, food habits and habitat of the wildlife species and its recent conflict with humans.
Chavan said that wild animals which are specific to a region are an important heritage of nature. He focused on the importance of living in harmony with this heritage so that they continue to provide ecosystem services to the people of the area.
A nature group consisting of 12 students was also constituted on the occasion who will be trained for a practical field survey relating to plant and animal species of Zanskar by the trust.
Earlier, Principal GMDC Zanskar Professor Nasir Shabani in his welcome address urged the Wildlife Conservancy Trust India to collaborate with compatible departments of the college for short-term research projects so that students and teachers can get benefitted about research methodologies.
Proceedings of the program were conducted by Dr Abdul Hamid, Assistant Professor Environmental Sciences.