GDC Kargil organizes 4th Annual Zoology Students Seminar 2022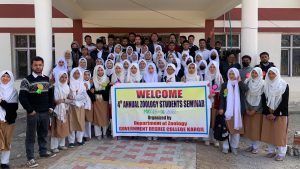 KARGIL, May 06, 2022: Department of Zoology, Government Degree College Kargil today organized the 4th edition of Annual Zoology Students Seminar the theme of which was Immunology.
The seminar had 12 group presentations by students of 6th semester, 03 PhD presentations by faculty members and 03 keynote addresses by invited experts. The two-day event was attended by 300 participants including students and faculty members of the college.
The seminar was first held in 2018 and since then the annual event brings together students, faculty members and subject experts with an objective to develop and improve presentation, research, discuss skills of students, provide students, background and fundamental concepts in research and train them to become competitive graduates in Zoological sciences.
To develop organizational, leadership and event management skills of students, this year the students of 6th semester (batch 2019) were given the responsibility to organize the event.
The inaugural session of the seminar had six student group presentations and special talk by Dr Winsy Abraham, Senior Educationist/Human Resource Specialist from Bhopal on the topic 'Presentation and other Soft Skills'.
Also in the session Niazul Hassan Khan, PhD Scholar from Wildlife Institute of India, Dehradun made a presentation on his PhD research titled Brown Bear in Ladakh while Dr Zakir Hussain, faculty member GDC Kargil shared his PhD research focussing on Lepidopteran Diversity of Ladakh.
On the second and concluding day, six student groups made their presentations. Dr Sajjad Ahmad, faculty member of GDC Kargil spoke about his PhD research on Zoonosis.
The highlight of the second day session was demonstration of working of artificial heart developed by student innovator, Manzoor Hussain.
Dr Javed Naqi, HoD and convener of the seminar presented the keynote address in the valedictory session on the topic, "How to get Published in Academic Journals".
On the occasion, the special guest Raza Ali DFO and District Wildlife Warden deliberated on opportunities for students in department's wildlife conservation and research efforts.
The student conveners Sadiq Ali and Fatima Banoo presented the welcome address and vote of thanks respectively.