GDC Kargil celebrates World Water Day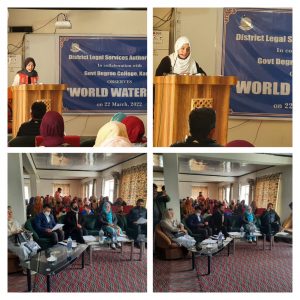 KARGIL, MARCH 22, 2022: As part of series of events under Azadi Ka Amrit Mahotsav, Government Degree College Kargil in collaboration with District Legal Services Authority (DLSA) today observed World Water Day.
Secretary DLSA Kargil, Muneer Ahmad KCS (J) was the chief guest on the occasion. He threw light in-depth on constitutional provisions related to conservation of waters and sections of IPC and Indian CrPC.
Advocate, President Bar Association Kargil, Khadim Hussain and Secretary Bar Association, Talib Hussain were also present on the occasion.
They spoke about the general powers of the Central Government with respect to the Environment Protection Act, 1986 and Water Pollution Prevention Control Act, 1974, and Water Cess Act.
The event started with the national anthem and the college song by anthem group. Principal GDC Kargil, Dr Aamina Qari presented welcome address. She emphasized on the importance of water in the drastically changing environment.
Various students of the college presented speeches on World Water Day. This year's theme is "Ground Water: Making the invisible visible" which was very lucidly comprehended by the students in their speeches.
Assistant Professor Environment Science, Ali Rahim also spoke on the occasion.
The event concluded with vote of thanks by Assistant Professor Environment Science, Sajjad Hussain. He impressed upon the moral obligations besides abiding the regulations in vogue and emphasized the importance of water as resources in major religions.
The proceedings of the event were conducted by Faiza Naaz student of third Semester of GDC Kargil. Prizes were also distributed among the participating students.