GDC Drass holds girl's volleyball competition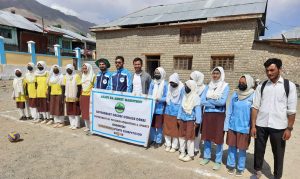 KARGIL, JUNE 16, 2022: Government Degree College Drass today organized girls volleyball competition as part of the ongoing inter-house sports competition 2022. The program is part of celebration of Azadi Ka Amrit Mohatsav under the supervision of Principal Dr Amjad Ali Abassi.
The first match was played between Batra Top House and Tiger Hill House teams. The game was tossed by Prof. Jigmet Sangyas in presence of Mustafa Ali, College Director of Physical Education and Sports.
All faculty members were also present during the event. The event's second game was played between Manman Top and Tololing teams.
The first game was won by Batra Top team and in the second match Manman Top House team emerged as the winner.
The final match was played between Batra Top and Manman Top teams in which Manman Top team became the winner of the Volleyball Competition 2022.
In the end, Prof. Mumtaz Ahmad congratulated the winning team and all other teams that participated in the tournament and urged students to take active part in other sports activities to hone their talent.