Gargardo A team wins LAWFC Archery Cup 2022, CEC Feroz Khan presides as chief guest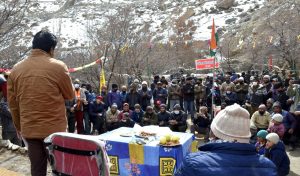 KARGIL, MARCH 02, 2022: Gargardo A team today won the Ladakh Aryan Welfare Forum Chulichan (LAWFC) Archery Championship cup 2022 in presence of Chairman and Chief Executive Councillor (CEC), LAHDC, Kargil Feroz Ahmad Khan at Chulichan.
In the two-day championship, 11 teams from different villages in the Batalik sector participated. The Batalick team remained second, Gargardo B remained third and Silmo team remained fourth in the championship.
While responding to demands raised by public on the occasion, CEC Khan, who presided over the function, assured to provide sports equipment for the club from subsidy component. He also assured new school building, teaching staff and furniture for office of the organization.
The locals expressed gratitude to the CEC over the up-gradation of Government Middle School to High School. The CEC urged the locals to enroll their children at the local Higher Secondary School Silmo, to keep it properly functional.
He encouraged reviving traditional Archery while excelling on modern equipment also which is necessary to compete in recognized national and international championships.
Regarding the demand for a multipurpose sports stadium and ration store, CEC Khan urged the villagers to provide land for development of the same.