Five-day training programme for Traffic Police personnel concludes with valedictory ceremony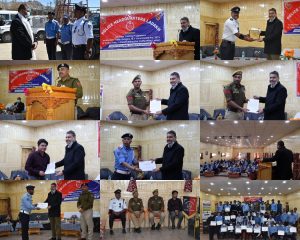 Leh, April 06: The valedictory ceremony of the five-day training course on Modern Traffic Gadgets, Motor Vehicles Amendment Act 2019, Traffic Drills, organised by the Police Headquarters (PHQ) Ladakh for its Traffic Wing Police personnel, was held at Shenam Community Hall, Leh. Additional Director General of Police (ADGP), UT Ladakh, S S Khandare was the chief guest of the occasion.
Commencing the programme, Superintendent of Police, Traffic, Mohd Rafi Giri briefed about the training and the feedback from the trainee participants. He termed the training course a great learning experience for the participants.
Congratulating the participants on the successful completion of the training, ADGP, UT Ladakh added that training is fundamental for all belt forces to instil discipline and punctuality in them. He said that for many tourists visiting Ladakh the first impression of Police is formed from the Traffic and Tourist Police who remain deployed at different locations/places.
He emphasised the strict enforcement of the Motor Vehicles Amendment Act 2019, especially against violations of rash, negligent and drunken driving, over-speeding, wrong parking, high beam lights, and use of mobile phone while driving, adding that 202 lives were lost between 2017 and 2020.
ADGP Khandare said that the training should have a visible impact on the ground regulation and enforcement duties of Traffic Police. He appreciated the efforts of the expert resource persons and hoped that Traffic Police must have immensely benefitted from the training.
He added that the manpower of the traffic wing would be increased in the coming days, keeping in view the expectation of a huge influx of tourists this year and to have better traffic arrangements in place.
The expert trainers and the participant trainees were felicitated with mementoes and certificates.
The PHQ Ladakh had invited experts on modern traffic gadgets from Enhansafe India Pvt. Ltd., famous 'Dancing Cop' Head Constable, Indore Traffic Police, Ranjeet Singh and drill instructors from Sher-i- Kashmir Police Academy, Udhampur to impart training to Traffic Police personnel to make them capable and better trained/ equipped with modern traffic gadgets to regulate and enforce traffic.