Fisheries Department Kargil organizes training program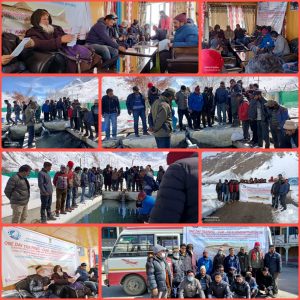 KARGIL, MARCH 15, 2022: Department of Fisheries organized a one-day training cum field demonstration program on "Grow-out culture of Rainbow Trout in Raceways and Artificial trout Breeding & Hatchery Management" on Sunday at Fish Farm Damsna.
The program was aimed to develop the capacity of progressive fish farmers and field functionaries of the department in aquaculture and hatchery management.
The training program was funded by National Fisheries Development Board (NFDB) under PMMSY Scheme.
Officials said that the program is of immense help for progressive fish farmers and field functionaries of the department to propagate the trout fish culture among the farmers for enhanced fish production.
Assistant Director Fisheries Kargil, Murtaza Ali also elaborated about the beneficiary-oriented CSS Schemes to the farmers and distributed pamphlets depicting various farmer interest schemes of the department.
Officials said that the fisheries sector is emerging as one of the areas for the educated unemployed youth and farmers to develop entrepreneurship/self-employment.
The department is making efforts to transform rural poverty to prosperity through fisheries and aquaculture development by judicious and gainful utilization of water resources.
Around 40 progressive fish farmers and departmental field staff participated in the program.
Field demonstration, as well as practical training, was imparted to the participants in two sessions of training with regard to feeding ratio, stocking density, water chemical parameters, flow of water, artificial breeding technique and adoption of best management practices in aquaculture having in vogue.