Fish production to be doubled in 1 year under PMMSY in Ladakh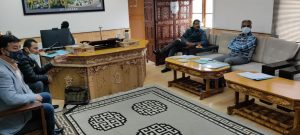 Leh, June 15: A meeting of UT-level Approval and Monitoring Committee for Pradhan Mantri Matsya Sampada Yojana (PMMSY) was held at the Civil Secretariat to approve the proposed annual action plan of UT Ladakh under PMMSY for the FY- 2021-22.
Commissioner/Secretary PHE Department, Secretary Panchayati Raj/Rural Development Department, Director Animal/sheep Husbandry and Fisheries and Convenor ULBC UT Ladakh attended the meeting.
The Committee approved the Annual Action Plan under PMMSY for UT Ladakh with a proposed action plan of Rs 7.15 crores for FY-2021-22.
Around 142 beneficiaries would benefit from the scheme that aims to double the existing production of trout fish in UT Ladakh by next year.
The PMMSY scheme would also cover the capacity-building and exposure tour of the progressive fish farmers. Rs.37.50 lakh were allocated for UT Ladakh to implement the scheme last year (2020-21).