First half of the 4 Days Capacity Building Programme on General Financial Rules, Public Procurement concludes in Kargil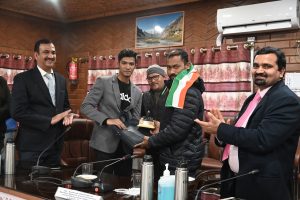 KARGIL, NOVEMBER 23, 2021: The first half of the 4 Day Capacity Building Programme on General Financial Rules for government officers and officials presently dealing with procurement of goods, works and services which concluded at Conference Hall Baroo here today.
Deputy Commissioner and CEO, LAHDC, Kargil Santosh Sukhadeve attended the valedictory session of the training programme as the chief guest.
Assistant Commissioner Development Ghulam Muhammad, Executive Engineer R&B-II Kacho Mehmood Ali Khan, Executive Engineer Suru Valley Division Shabir Hussain, Executive Engineer PMGSY Tsering Phunsok, District Social Welfare Officer Aga Syed Jamal, Block Development Officer Sankoo Kaneez Fatima, Trainer Shrish Ojha, AEEs and AEs of concerned departments besides officers and officials of other departments attended the training session.
Speaking on the occasion, DC Santosh Sukhadeve said that the feedback from all the participants is overwhelming and in future similar sort of programmes will be conducted with an extended timeline. He stressed that in coming programmes accounts officers and other concerned officials should be made part of the training.
"Being part of the Central Government we have to go through the national guidelines in terms of financial accounting and all discrepancies need to be rectified", the DC stated.
DC Santosh expressed the need for further collaboration of the District Administration with IIPA in the conduct of similar capacity building programmes in future.
On the occasion, Programme Coordinator Dr Surbhi Pandey from the IIPA virtually expressed gratitude to the UT Administration Ladakh, District Administration Kargil and the participants for their proactive participation and successful conduct of the programme.
Earlier during the second day of the programme, Chief Manager Vigilance Indian Oil Corporation Vipul Sharma gave a detailed presentation about tendering and purchasing while sessions on topics like Quality cum Cost Based Selection (QCBS) and GeM where also discussed during the presentation.
Earlier, trainer Shirsh Ojha gave a detailed presentation on Contracts Procurement Tendering for the projects, goods in government departments as per the guidelines issued by the CVC and Niti Aayog for central procurements in overall aspects and parameters through the annual bidding process.
Thorough deliberations and discussions were held on the related topics among the participants.
Meanwhile, DC Santosh Sukhadeve also took feedback from the participants and it was unanimously expressed by all to organise more such programs on an extended timeline in future. The participants also expressed satisfaction over the successful conduct of the programme.
Meanwhile, IIPA felicitated the Deputy Commissioner Kargil Santosh Sukhadeve with a memento while participation certificates were also distributed by the dignitaries among the officers.
Pertinently, the capacity building programme has been organised by the Indian Institute of Public Administration (IIPA) in collaboration with the General Administration Department, Union Territory of Ladakh,
The capacity building programme in case of the 2nd batch of trainees will continue on 24th and 25th November, 2021.