Finance Department UT Ladakh Organizes One-Day Workshop on Digital Payments in Kargil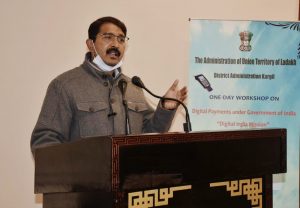 KARGIL, DECEMBER 11, 2021: In order to promote Digital India Mission, Finance Department, UT Ladakh, in coordination with National Payments Corporation of India (NPCI) conducted a one-day workshop on Digital payments at Kargil today.
On the occasion Chairman and Chief Executive Councilor, LAHDC Kargil, Feroz Ahmed Khan was the Chief Guest. Besides, Secretary Information and Technology UT Ladakh, Swagat Biswas and Deputy Commissioner and CEO, LAHDC, Kargil Santosh Sukhadeve were the guests of honor, whereas Vikas Sirohi, Nodal Officer NPCI, was the conductor of the workshop. District officers, representatives from various banks and private sector attended the said workshop.
Speaking on the occasion, CEC Feroz Ahmed khan thanked Finance Department, UT Ladakh and National Payments Corporation of India (NPCI) for organizing a resourceful workshop at such a crucial juncture.
Further CEC Khan stressed that such workshops will strengthen the Mission of Prime Minister of India 'of building a cashless digital India'.
CEC Feroz Khan highlighted that in today's digital world, where internet has become an integral part of our lives and has made our lives much easier than ever, it has become a prerequisite means to connect whole Ladakh with internet connection so that people can take maximum benefit out of modern technology, without any hindrances.
He further informed the participants that UT Administration, along with LAHDC Kargil, has already taken pragmatic steps towards connecting Kargil Digitally, expressing optimism CEC Khan said that many such steps will be taken in future as well to promote internet based services.
CEC Feroz Ahmed Khan said in order to popularize the usage of Digital transactions among the masses such workshops needs to be conducted at regular intervals, to impart awareness among all stakeholders in our society.
The Secretary Information and Technology, UT Ladakh, Swagat Biswas, while interacting with participants stressed on the usage of online transactions by departments, for services provided by Government to Government or Government to citizen, so as to provide efficient and effective delivery of information and services to citizens at large.
He further stated that government services have also evolved with advancement in technology, which has changed the way government interacts with citizens and how citizens avail government services.
Further, he directed the officers to identify government to citizen services, of their respective departments and initiate digitization process, so as to remove the time consuming and lengthy process, which helps in bypassing poor physical infrastructure bottlenecks, as well as increasing accountability and transparency throughout the system.
Earlier Deputy Commissioner and CEO LAHDC Kargil, Santosh Sukhadeve, in his welcome address, thanked the organizers for conducting the workshop and expressed optimism that this workshop will help to remove various doubts and confusions regarding the online mode of transactions and will enable the participants for effective and efficient use of digital transaction system.
Nodal Officer NPCI, Vikas Sirohi informed that Ladakh is registering growth of more than 100% in digital payments. He also emphasized the scope of further improvement in statistics. In order to achieve the goal of Digital India, the nodal officer urged the participants, including representatives of banks and commercial sectors to provide their customers with the option of 100% cashless and contactless transactions at their end.
He stressed on organizing awareness camps for the masses to encourage and promote digital payments among all stakeholders of the society, which would certainly benefit in the economic growth as well.
He also gave a detailed presentation on various topic, including Background of NPCI and Digital Payments, Role and responsibilities of UT Administration, BHIM UPI and its uses, NACH for DBT and NON-DBT, National Common Mobility Card(NCIM) and Rupay, e-Rupi, BHIM Aadhar pay and National electronic toll collection (FASTag).
The workshop ended with an interactive and question answer session.
In his concluding remarks Iftikhar Hussain, Pay and Accounts officer/Chief Controller of Finance, LAHDC Kargil, presented vote of thanks to the officers of verious departments as well as the Nodal Officer NPCI, Information Department, Informatics Department, representatives of banks and Unions, for their collaboration and coordination, in order to successfully execute the programme.
The PAO/CCF further assured all sought of support from the Finance Department and said that the department will monitor progress in promotion of Digital Payment in Ladakh, in future and also requested bank representatives to start awareness camps for the masses.
The PAO/CCF further requested District Officers to promote digital payments from their respective platforms as well.
The workshop concluded with the presentation of a memento to Vikas Sirohi, Nodal Officer, NPCI, by the Deputy District Election officer, Nargis Banoo, on behalf of the District Administration.