Farmers sell fresh vegetables produced in Ladakh Greenhouses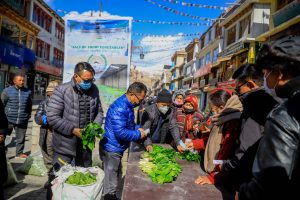 Leh, Feb 16: Fresh vegetables organically produced in poly-carbonated greenhouses under Ladakh Greenhouse Project were sold at nominal rates to the public through the Department of Agriculture, Leh at Balkhang, Main Market today, in the presence of Sub-Divisional Agricultural Officer, Leh, Shakeel-ur-Rehman and Agriculture Extension Officer, Leh, Ghulam Mohd Mir.
Around 200kgs of fresh leafy vegetables were procured from the farmers of Shey, Thiksey and Stok villages who were the beneficiaries of the Ladakh Greenhouse Project.
Sub-Divisional Agricultural Officer, Leh shared that the greenhouse under Ladakh Greenhouse Project is provided at subsidized rates to the farmers and urged them to avail the benefits of such technologies for the production of vegetables in the winter season.