ERO Leh apprises political parties of electoral rolls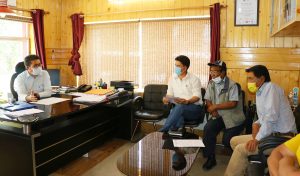 Leh, Aug 09: Additional Deputy Commissioner (ADC), Leh, Sonam Chosjor, who is also the Electoral Registration Officer (ERO) and Dy. District Election Officer (DDEO), chaired a meeting with the representatives of the political parties in Leh district regarding the Special Summary Revision of Photo Electoral Rolls commencing from 9th August 2021.
ADC Leh apprised members of political parties of the pre-revision and revision activities, including removing Demographically Similar Entries (DSEs), multiple entries, logical errors, door-to-door verification through Block Level Officers (BLOs), formation of sections, rationalisation of polling stations and publication of integrated draft electoral roll, filing and disposal of claims and objections.
The threshold for rationalising polling stations is 1200 voters in rural areas and 1500 voters in urban areas.
ADC Leh directed the political parties to appoint Block Level Agents (BLAs), who would work in coordination with BLOs during the verification process, to make the electoral roll revision exercise a success.
ADC informed about the revised qualifying date, i.e. 1st January 2022, for enrolling one's name in the electoral roll who are 18 years or above.