Environment and Nature Conservation major theme for fourth day of THFF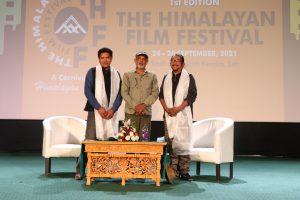 Leh, Sept. 27: Environment and Nature Conservation was the major theme for the fourth day of The Himalayan Film Festival being held as a part of the Azadi Ka Amrit Mahotsav celebrations at Sindhu Sanskriti Kendra.
Famous wildlife filmmaker Subbiah Nallamuthu conducted a masterclass session with wildlife film enthusiasts. The World's Most Famous Tiger, a documentary made by S Nallamuthu, was also screened during the event.
Later, a documentary film titled, Khee (Dogs), made by Nikhil Talegaonkar and Sandeep Dhumal on the impact of feral dogs on wildlife in Ladakh was also screened for the audience.
Director, Snow Leopard Conservancy India Trust, Dr Tsewang Namgial and Lobzang Visuddha of Wildlife Conservation and Birds Club of Ladakh (WCBCL) held an experts' talk on the theme, 'Documenting environment conservation and more.'
Famous producer and director, Nila Madhab Panda, known for making films on developmental issues, also conducted a masterclass session on the theme, 'Direction'.
Phonsok Ladakhi, an FTII alumni and the first actor from Ladakh to act in a Bollywood film, also conducted a masterclass on acting.
Popular Bollywood film 3 Idiots that was shot in Ladakh, The Boy Who Saw More, award-winning films such as Kima's Lode-Beyond The Glass, Crossing Bridges and popular Ladakhi films such as Delwa, Wake Up and Lzadol were screened to a packed house.
Jury-recommended films – Go for Organic, The Tainted Mirror, Shadey-A Forgotten land, Nestling Munia, Adapting to Climate Change: Focus on Biodiversity in the Western Himalayas were also screened.
To showcase the talent of Ladakhi filmmakers, the films (less than 10 minutes in duration) from local filmmakers received in the competition were also screened in front of a packed audience at Picture Time.
Secretary Information, Padma Angmo appreciated the works of the local filmmakers and felicitated them with traditional khataks. Out of more than 100 entries received from the Himalayan states and UTs for the competition section, almost one-third were from Ladakh.
Later, local musicians captivated the attention of the audience with their songs during the live music session.
Councilor Chushul, Konchok Stanzin, SP Traffic, Mohd Rafi Giri and Director School Education, Ladakh, Dr Safdar Ali, graced the event as special guest during different sessions on day-4 of the festival.
The Himalayan Film Festival is being organised by the Administration of Union Territory of Ladakh in collaboration with the Directorate of Film Festivals, Ministry of Information and Broadcasting, GoI. The event is being hosted in collaboration with LAHDC Leh.