Elected representatives of Zgang Chiktan meet EC Mohsin Ali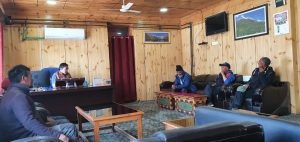 KARGIL, APRIL 07, 2022: The elected Panch and members of Zgang Chiktan today met with Executive Councilor for Health, Mohsin Ali at Council Secretariat and put forth some demands of Zgang Chiktan before the EC.
After hearing the demands patiently, the EC assured the Panchs that the construction of link road up to Zgang Chiktan will be started during the financial year 2022-23.
The EC said directions have been passed to the District Sheep Husbandry Officer, Kargil for the construction of Cattle Shed at Marjungjung Chiktan immediately during the current month.