EC Works inspects land feasibility, technical aspects for installation of lift irrigation, solar submersible pump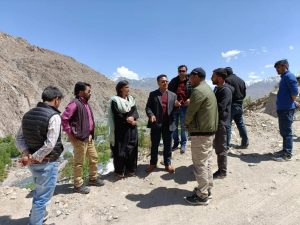 KARGIL, APRIL 27, 2022: Executive Councilor for Works Aga Syed Abass Razvi today inspected land feasibility and other technical aspects for the installation of lift irrigation and solar submersible pump at Chumik Shilikchey.
Councilor Town Haji Abass, Superintending Engineer (SE) PHE Er Tashi Tundup, Engineers of PWD, PHE, I & FC Mechanical besides other concerned officers were present during the visit.
Councilor Town Haji Abass informed that the lift irrigation will provide water supply for land irrigation and meet the daily needs of residents of Yokchos Dass, Dethang and other adjoining areas.
He requested the concerned officers to expedite the construction and installation process at the earliest in order to avoid possible drought situation in the coming farming season.
The concerned officer from the Mechanical Department informed that the department has procured the necessary material for the installation of the pump while only civil works for the installation of pump are remaining.
The EC works directed the concerned officers of the respective department to work in close coordination to avoid any miscommunication during planning and execution. He also requested officers of the concerned departments to start work at the earliest.
The land for the installation of solar submersible pump was also identified during the visit along with the feasible sun-facing land for the installation of solar plates.