EC Tashi Yakzee distributes PA systems to villages of Tangste Constituency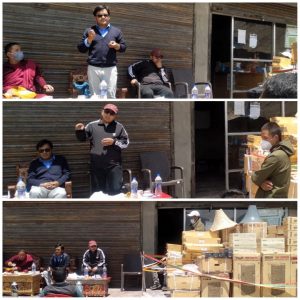 Leh, July 05: Executive Councillor for RDD, the elected Councillor from Tangtse Constituency, Tashi Namgyal Yakzee distributed Public Address (PA) system to seven villages in his constituency, namely Shayok, Rellay Eaching, Laga Durbuk, Lalok Winter Sporting Association Tharuk, CIBS School Shachukul and Tarsing Karmo under the Councillor Constituency Development Fund (CCDF).
EC Tashi Yakzee expressed his gratitude to Assistant Director of Information Department Leh, Ghulam Nabi Tak for timely procuring and handing over the pieces of equipment to the people of Tangste Constituency. The total amount proposed for procurement of the Public Address System was 7.50 Lakh.
Village representatives led by Sarpanches and Nambardars extended gratitude to EC Tashi Yakzee for providing the much needed PA systems in the villages.