EC Tashi Yakzee discusses plans under Changthang Development Package with public representatives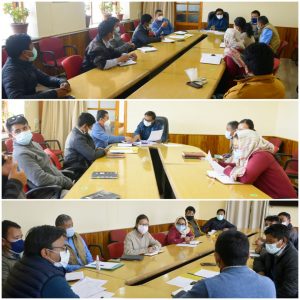 Leh May 06: Executive Councillor for Animal/Sheep Husbandry, LAHDC Leh, Tashi Namgyal Yakzee convened a meeting today at the Council Secretariat, Leh to discuss plans for the recently announced developmental package for the Changthang region in Leh.
DSHO Leh apprised the Chair of the plans under the Changthang Development Package and put forward agendas in front of the meeting to discuss and take decisions accordingly. The meeting discussed plans such as distribution of pre-fabricated insulated sheds for nomads, pasture and fodder development in Changthang and purchase of Nomadic Kits such as tents, tarpaulin, portable toilets, gen-sets, radio, etc.
The purpose of the meeting was to discuss plans under the developmental package in consultation with all the public representatives from the Changthang region in line with the officials of Animal and Sheep Husbandry for a better implementation of works on the ground level. All the concerned Councillors and BDC Chairpersons of Changthang region put forward their concerns and suggestions to the Chair and officials of the ASH department Leh.
It was also discussed during the meeting that the higher incentives such as the provision of prefabricated insulated sheds for the nomads will be finalized with consultation and as per the requirements of the beneficiaries. DSHO Leh also assured the meeting that the department will come up with samples of tents and sheds within 10-25 days to survey and analyze the durability keeping in mind the extreme climatic condition of the Changthang region.
EC Tashi Yakzee stressed a suitable and proper implementation of all the schemes as well as incentives to each and every people of the region. He also requested concerned officials of the Sheep husbandry department to implement projects in consultation with the concerned public representatives of the region.
DSHO Leh, Councillor Chushul, Nyoma, Korzok, Kungyam and BDC Chairperson of Durbuk, Nyoma, Korzok and Rong attended the meeting.