EC Tashi visits Pashkum, Lotsum Takes stock of pace of progress of works being executed under RDD sector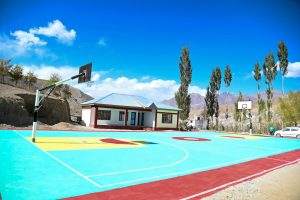 KARGIL, OCTOBER, 13, 2021: Executive Councillor for Rural Development Er Phunsok Tashi took stock of the status of various works being executed under Rural Development sector during his visit to various villages of Pashkum and Lotsum blocks here today.
Assistant Commissioner Development (ACD) Kargil Ghulam Muhammad, Executive Engineer REW Gulzar Hussain Munshi, District Panchayat Officer Padma Angmo, In Charge BDO Pashkum Asgar Ali, BDC Chairperson Pashkum Zakir Hussain, Sarpanch Pashkum Issa Ali besides other concerned officers accompanied the EC during the tour.
Er Phunsok Tashi expressed satisfaction over the ongoing works of RDD Kargil and its impact in transforming the rural areas of the district. He aslo hailed the department for ensuring quality and cost efficiency of the works.
The EC Rural Development said that the CEC Kargil has directed to take stock of the status of various grassroots works and also boost the morale of concerned officers and departments working for public welfare. He also suggested the PRI members to work in tendem and close coordination with the concerned officers of RDD so as to get better understanding of the works and schemes and their proper execution from time to time.
EC Tashi said that our mandate should be to prioritise the completion of pending works while ensuring strict adherence of quality and quantity parameters for creation of durable assets for public utility.
The EC Rural Development took stock of the status of various works executed by the department under SDP, CRF, State Sector and other schemes.
At Tharumsa Pashkum, EC Tashi inspected the works of community hall, link road Tharumsa, BDO and BDC buildings while at Pashkum-B and Zgang he took stock of the status of works done on construction of library buildings executed under State Sector and SDP. He also visited Government Higher Secondary School Pashkum and took stock of the status of various works including the basketball court in the school premises and ice hockey rink construction site at Darche Masjid.
Meanwhile, the EC Rural Development also visited various villages of Lochum and inspected various works executed by Rural Development Department. He directed for completion of works within the stipulated timelines besides ensuring quality of works.
The PRI members thanked the EC for the visit and raised various issues concerning their respective areas.
Meanwhile, ACD Ghulam Muhammad suggested the PRI members to give ideas to propose a plan on sustainable livelihood and economy for 2022 plan, so that from next year onwards schemes that can benefit majority population in rural areas can be introduced.