EC Tashi reviews progress of developmental works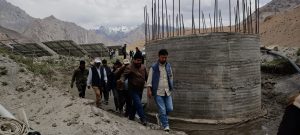 KARGIL, JUNE 18, 2022: Executive Councilor Tourism, RD and Zanskar Affair, LAHDC, Kargil, Er. Punchok Tashi today inspected various places to review the progress of developmental works executed by various agencies.
At Tehsil Library Zanskar, the EC directed the concerned department to fulfil the requirement put up by the Tehsil Librarian. He assured the student representatives that the library may be furnished and electrified by Monday.
EC Tashi also directed Principal Higher Secondary School Padum to depute a sweeper and helper for the library till proper engagement of staff by District Library Officer Kargil.
The Executive Councilor directed the Executive Engineer PWD to complete the library compound wall and main gate at the earliest.
He also visited Govt. Middle school Padum where he interacted and discussed with 17000 ft Foundation and directed to provide all the provisions to this school as the roll is above 35 students. The school staff raised issues related to school and the EC assured to solve the issues shortly.
On way to Pishu, EC Tashi inspected the under-construction Photang Gonpa of Karsha and directed the Exen PWD to complete the tendering process of the welcome gate Photang within a week. He also interacted with the construction committee of Photang.
Further, the EC also visited Pishu village where lift irrigation system was installed by an NGO. EC Tashi visited the solar lift irrigation project at Pishu which is being constructed by the PWD Department and directed the concerned officers to complete the project within three days and make it functional within a week so that crop of the village doesn't suffer loss.
The villagers of Pishu raised various issues like Pishu canal, road, drinking and irrigation water. The EC assured the public to solve the issues within a short period of time. He also handed over 400 ft pipe to people for irrigation purpose.