EC Tashi convenes meeting to discuss issues of religious monuments coming under road realignment of NH 301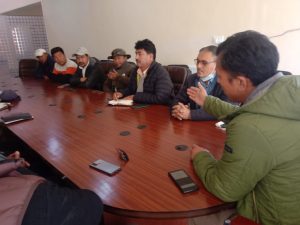 KARGIL, SEPTEMBER 17, 2021: Executive Councilor for Tourism and Zanskar Affairs Er Punchok Tashi convened a meeting here today to redress the issues related to various religious monuments coming under the road alignment works construction realignment works of the Kargil Zanskar Road NH-301.
The meeting was attended by the Additional Deputy Commissioner Kargil Tsering Motup, Councilor Karsha Stanzin Jigmath, General Manager NHIDCL Kargil Shiv Kumar, Sub Divisional Magistrate Zanskar Sonam Dorjay, Officer Commanding 126 RCC Prateek Sachan, President Buddhist Association Youth Wing Zanskar Stanzin Tundup, Vice Presentation Buddhist Association Zanskar Namgyal Dorjay and officers of Revenue Department besides other concerned officers attended the meeting.
The meeting held detailed deliberation and discussion on issues of various religious monuments which come under construction of NH 301 by the National Highways and Infrastructure Development Corporation Limited (NHIDCL) and Nimo Padum Darcha (NPD) Road by 126 RCC GREF.
Zanskar Buddhist Association (ZBA) raised many issues including the dumping of debris around manay walls and stupas and expressed concern over the issue. They suggested to maintain a distance of 10 meters space between monuments and the road.
The General Manager NHIDCL informed the meeting 83 stupas on NH-301 need to be shifted to alternate locations. He further urged to identify land to relocate the stupas for smooth road construction works, adding he said that if required the expenditure on account of the shifting of the stupas or mani walls shall be bear by the company.
The Manager NHIDCL added that in urban areas the land compensation will be paid 2 times more and in rural areas it shall be paid 4 times of the market value as per Govt guidelines and the structures shall be paid as per estimates prepared by a Government executing agency.
OC GREF informed EC Tashi that the damaged stupas around Raru Muney have already been repaired, adding he assured that the changed names will be rectified and sign boards with real names will be erected soon.
Meanwhile, the Additional Deputy Commissioner informed the meeting that the Administration has received an amount of Rs 180 crores from NHIDCL for land and structural compensation.
The EC Zanskar Affairs directed the executing agency to improve the surface of the road especially from Akshow to Tungri on priority base, so as to ease commuters.