EC Syed Arman inaugurates day long training cum awareness programme on NRLM at Saliskote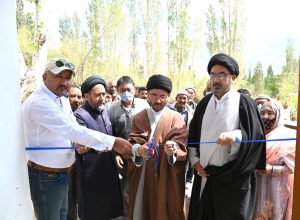 KARGIL, SEPTEMBER 16, 2021: Executive Councilor for Social Welfare Aga Syed Hassan Arman Mosavi inaugurated one day training cum awareness programmeon National Rural Livelihood Mission (NRLM) organized by the Department of Rural Development Kargil under Azadi Ka Amrit Mahotsav at Saliskote here on Wednesday.
Councilor Trespone Aga Syed Mujtaba Mosavi, Councilor GM Pore Aga Syed Mehdi Mosavi, Assistant Commissioner Development Kargil Ghulam Muhammad, Assistant Director Handloom Ansar Hussain, Block Development Officer TSG Asgar Ali, General Manager State Bank of India Kargil Branch Mushtaq Ahmad Malik, Sarpanchs and Panchs, villagers besides other concerned officers were present on the occasion.
The EC while hailing the efforts of the Rural Development Department Kargil for having organized the training programme stressed on the participants to come forward and take full benefit of the scheme. He also said that the women of the area should make Self Help Groups (SHGs) to take benefit from such central sponsored schemes.
EC Syed Hassan Arman assured that the LAHDC Kargil is committed to provide funds under subsidy components to boost the farmers
Speaking on the occasion, the ACD Kargil highlighted the objectives f the scheme in which the target shall be achieved for the establishment of the groups.
He also said that rupees 1 crore has already sanctioned and expenditure for revolving funds/ community investment fund to the groups within a year.
General Manager State of India Kargil Branch Mushtaq Ahmad Malik also spoke on the occasion. He assured that the bank is committed to support for the implement of the scheme.