EC Syed Abbas visits Guru Nanak Darbar Camp Pune Hails Gurudwara Committee for philanthropic works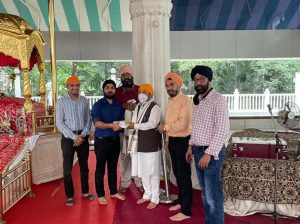 KARGIL, JULY 27, 2021: Executive Councilor for Works and Information Aga Syed Abass Razvi visited Guru Nanak Darbar Camp Pune today.
The EC was welcomed by the President Charanjeet Singh and other members of the Guru Nanak Darbar Camp who apprised him about the various philanthropic works being done the Gurudwara Committee.
EC Syed Abass hailed various works being done by the Gurudwara Committee for the welfare of humanity including the COVID-19 Center in the Guru Nanak Darbar Camp for conducting free Covid tests and vaccination for the needy. He urged them to continue with their selfless works for the welfare of the needy which is a great example of goodness.