EC Syed Abbas visits 300 Bedded Hospital Kurbathang, LAHDC Assembly Hall, Councilor Residential Quarters Takes stock of status of works, directs for completion within set timelines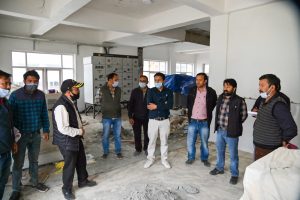 KARGIL, SEPTEMBER 23, 2021: Executive Councillor for Works Aga Syed Abbas Razvi took stock of the status of works on the construction of 300 bedded hospital, LAHDC Assembly Hall and Councillor Residential Quarters here today.
Superintending Engineer PWD Kargil Er Ved Prakash, Chief Medical Officer Kargil Dr Munawar Hussain Wazir, Executive Engineer Mechanical Division Muhammad Hassan besides other concerned officers accompanied the EC Works during the visit.
At 300 Bedded Hospital Kurbathang, the EC Works visited different sections of the hospital and directed that for proper functioning of the hospital dedicated electric substation should be established at the earliest. He also instructed the officers for modification of the height of oxygen plant from the existing 12 feet to 15 feet besides also ensuring installation of electric points for the ICU Unit.
EC Syed Abbas also visited the VIP guest house building near the Councilor Quarters being constructed at a cost of Rs 6 crore 53 lacs under District Capex and while taking stock of the status of the works executed directed for early completion of the project within set timelines. He further directed to complete renovation works of the Executive Councilor Quarters within a week's time and to install transformer for the functioning of hand pump near the Councilor Quarters.
The EC also visited the work site of Assembly Hall near Council Secretariat being constructed at a cost of Rs 7.65 crores under District Capex. He was informed that the building will be constructed completely by the end of this year while finishing and interior works will be completed by next year.
The EC while expressing satisfaction over the pace of works directed to complete the remaining works within the stipulated timelines.