EC Syed Abbas takes stock of flood restoration works in Khawos village Directs Mechanical Department to send back machines to headquarters Councillor Parkachik donates eco van for Medical Aid Centre Khawos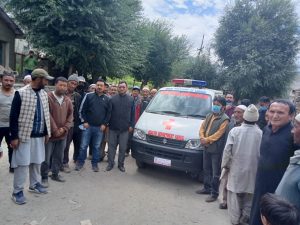 KARGIL, AUGUST 14, 2021: In order to take stock of the flood restoration works at Khawos village, Executive Councilor for Works Aga Syed Abbas Razvi visited the area here today.
Councilor Parkachik Haji Ghulam Muhammad, Executive Engineer Mechanical Division Muhammad Hassan, Block Medical Officer (BMO) Tai-Suru and other concerned officers of I&FC and Mechanical Division accompanied the EC during the visit.
EC Syed Abbas Razvi expressed satisfaction over the works carried out by the concerned departments so far in the clearance of debris, strengthening and altering the water paths of irrigation khuls and nallahs and other necessary works.
The EC Works directed the concerned officers of Mechanical Division to send back the machines to the headquarter the assigned works have almost been completed.
On the occasion, Councilor Parkachik Haji Ghulam Muhammad donated an ecco van for the Medical Aid Centre (MAC) Khawos and a generator set for the village considering the public demand for Muharram.
Meanwhile the area Sarpanch, Nambardar and senior citizens on behalf of the village expressed gratitude to the LAHDC Kargil, District Administration Kargil and other concerned departments for working day and night to carry out the restoration works, adding they also thanked the Councillor for donating the eco van and generator set from the CCDF.