EC Syed Abbas takes stock of damages to public properties at Mayeta Brok, adjoining villages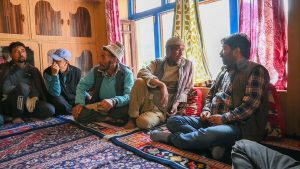 KARGIL, AUGUST 07, 2021: Executive Councilor for Works and Information Aga Syed Abass Razvi took stock of extent of damages to public properties due to the recent flash floods in various villages including the irrigation khul at Mayeta Brock village here today.
Taking on spot assessment of the damaged khul, EC Aga Syed Abass Razvi assured the villagers of immediate necessary measures with regard to its maintenance. He said that the issue will be taken up with the concerned department at the earliest.
The EC Works said that the damaged water reservoirs will also be resorted, and soon a team of concerned departments will be sent to assess the extent of damages.
EC Syed Abbas also met people's delegations and listened to their grievances and demands. He assured that immediate necessary measures will be taken for early redressal of all concerns in a phased manner.