EC Syed Abbas assesses flood restoration works in various villages of Barsoo area Directs to accelerate pace of restoration works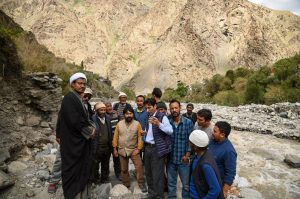 KARGIL, AUGUST 10, 2021: Executive Councilor for Works Aga Syed Abbas Razvi took stock of flood restoration works in various villages of Barsoo area here today.
Councilor Barsoo Sheikh Ghulam Muhammad Ansari, Councilor Thasgam-Thuvina Abdul Rahim, Tehsildar Sankoo and concerned officers of SVD, Forest and I&FC accompanied the EC Works during the tour.
EC Syed Abbas Razvi visited Khandi, Sahrgandi, Thela, Thela-Broq and Pangbar villages and interacted with the village representatives, listened to their grievances and also took assessment of the damages caused to public properties.
At Khandi, the EC Works was informed that agricultural fields and irrigation khuls have been damaged while at Shargandi village khuls, foot bridges and footpaths have been damaged due to the flash floods.
Aga Abbas also visited Thela and Thela-Broq where he was informed that major access road to the village, khuls and river embankments have been damaged.
At Pangbar village, the EC was informed that khuls and fields have been damaged due to the floods, adding that temporary restoration works of khuls is going on in the village and the adjoining villages.
The EC Works directed that concerned officers to accelerate the pace of ongoing works on the restoration of irrigation khuls, clearance of debris from the fields and other important works.
EC Syed Abbas assured the public that the LAHDC Kargil is committed to ease the people's problems, and all out measures are being taken to provide relief and rehabilitation to the affected families.
Later, the EC Works also visited the construction site of helipad in Barsoo.