EC Syed Abass visits Suru, Parkachik Takes stock of extent of damages, restoration of essential services post recent snowfall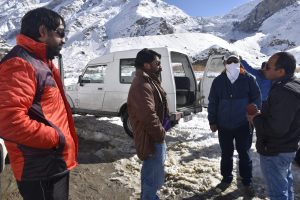 KARGIL, OCTOBER 27, 2021: On the directions of the Chairman and Chief Executive Councillor, LAHDC, Kargil Feroz Ahmad Khan, Executive Councillor for Works Aga Syed Abass Razvi who is also the Councillor of Tai Suru Constituency today visited Suru and Parkachik to take stock of the extent of damages and restoration of essential services in the aftermath of the recent sudden snowfall.
The Executive Councilor was accompanied by the Sub Divisional Magistrate Sankoo Ghulam MohiuddinWani, Councillor Parkachik Haji Ghulam Mohammad, Executive Engineer Mechanical Division Muhammad Hassan, Tehsildar Tai Suru Sajjad Hussain, representatives of NHIDCL, PHE, PDD, Forest, Agriculture, Soil Conservation, SVD Sankoo besides the officers of other concerned departments.
EC Syed Abass chaired a meeting of all the concerned officers at Tai Suru and took stock of the status of essential services including electricity, water supply, road connectivity and damages caused to trees.
The meeting held detailed discussion on the snow clearance works on the Kargil-Zanskar Road NH-301 by the NHIDCL.
The EC Works instructed the agency to engage locals to expedite the snow clearance works and further instructed to ensure proper clearance of the road first followed by widening so as to ensure smooth plying of vehicles. He also underlined the need to keep soil, salt and urea on the road side especially in slopes for use in cases of slippery conditions.
EC Syed Abbas also asked the concerned officers to keep recovery vehicles, kerosene oil, firewood, battery bank and other necessary requirements to cope up with emergency situations. He also instructed the Forest Department to assess the damages caused to trees in the area and report the same to the Tehsildar Tai Suru.
Later, the EC visited Parkachik where the Nambardar and the locals appraised him about interruption in supply of drinking water, electricity and blockade of road and urged for immediate restoration.
The EC informed that as per a new MoU, the NHIDCL has been assigned for realignment, maintenance, and snow clearance on the NH-301. He assured that the agency will clear the road soon and assured that issues related to restoration of electricity, water and road issues will be resolved soon after consultation with the concerned officers.