EC Syed Abass Razvi takes surprise visit to Atul International Taekwondo Academy Kargil Inquires about the condition of players, assures to fulfil all demands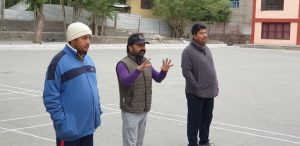 KARGIL, MAY 24, 2022: Executive Councillor LAHDC, Kargil Aga Syed Abass Razvi today morning gave a surprise visit to Atul International Taekwondo Academy Kargil under the aegis of Ladakh Taekwondo Association at Munshi Habibullah Mission School and took on spot assessment of the classes and its requirements.
The EC while interacting with the players appreciated the efforts of Coach Zaheer Abass Khan and assured all possible help from LAHDC Kargil.
Razvi said that taekwondo is the only Olympic Game in which players have brought laurels to Ladakh at the national and international level which is a moment of pride. He assured to provide practice mats and pads for the association.
Asiya Banoo one of the players while thanking the EC for the surprise visit said that it is for the first time that a VIP has visited the class and encouraged the players.
She was hopeful that all their projected demands will be approved after the EC's visit.
On the occasion, General Secretary Ladakh Taekwondo Association Anayat Ali Shotopa thanked EC Razvi for his love and affection for sports.