EC Syed Abass inspects snow clearance works on Kargil-Zanskar highway Distributes Pashmina Goats among beneficiaries of Taisuru, Parkachik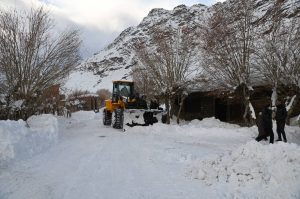 kARGIL, JANUARY 10, 2022: Executive Councillor for Works, Aga Syed Abbas Razvi today took a surprise inspection of snow clearance works on Kargil-Zanskar (NH 301) national highway.
During the tour, the EC took assessment of snow clearance measures put in at various places from Lankerchay to Parkachik Gongma. He was satisfied with the pace of snow clearance works. He was informed that the national highway from Lankarchey to Parkachik is accessible for vehicular movement.
EC Razvi directed concerned officers of Mechanical Division Kargil and NHIDCL to execute the remaining works of snow clearance on the stretch at the earliest by using soil and other means which will allow smooth traffic on the highway.
Later, at Choskore-Panikhar, within the subsidy component under the supervision of Sheep Husbandry Department Kargil, the EC distributed 25 units of Pashmina Goats among progressive farmers of Taisuru and Parkachik constituencies.
The officers of Sheep Husbandry Department including Dr Niaz Ahmed Lone and Muhammad Hussain were present on the occasion.
EC Razvi while addressing the farmers said that they should take maximum benefits of the government-sponsored schemes and LAHDC Kargil is committed to improve the economic conditions of rural population in the district.
Pertinently, each unit comprises 5 goats. The units are provided on a subsidy of 75 percent by the government and 25 percent has to be paid by the beneficiary.