EC Syed Abass chairs meeting on snow clearance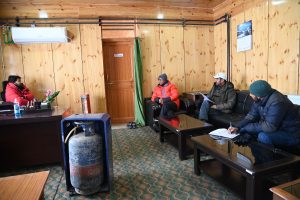 KARGIL, JANUARY 05, 2022: Following fresh snowfall, Executive Councilor for works Aga Syed Abass Razvi today chaired a review meeting on the preparedness of snow clearance and deployment of machinery at various locations Kargil district.
General Manager, National Highways and Infrastructure Development Corporation Limited (NHIDCL) Colonel Shiv Kumar, Executive Engineer Mechanical Division Muhammad Hassan besides other concerned officers were present during the meeting.
The concerned officers informed that the Mechanical Division Kargil and NHIDCL are working in close coordination to clear snow and ensure uninterrupted connectivity in the district.
The Executive Engineer informed that snow clearance machines and manpower have been kept stand by at various locations of the district to clear snow.
He also said that the snow clearance works will be started immediately after the halt in snowfall.
General Manager NHIDCL Shiv Kumar also informed the meeting that the corporation is fully prepared at all levels to extend support to the mechanical division regarding snow clearance.
Kumar also informed that they will put all their efforts to keep Kargil-Zanskar road clear during the winter season for public convenience.