EC Rizvi takes surprise visit to SVD Sankoo, mini sports stadium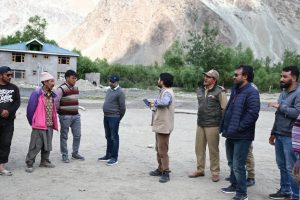 KARGIL, JUNE 04, 2022: Executive Councilor for Works, LAHDC, Kargil Agha Syed Abass Rizvi today gave a surprise visit to the Executive Engineer, SVD Sankoo office.
During the visit, the EC also inspected the execution of work at mini stadium Sankoo which is being developed at a cost of Rs 3.53 crores under the District Capex budget.
The EC also inspected the newly constructed office/chokidar quarter-cum-change room at the mini stadium. EC Rizvi also discussed the scope to develop the ground properly for sports activities and social gatherings.
At the SVD Sankoo office, the Executive Councilor inspected the functioning of the department on various projects in the area. The EC was accompanied by SDM Sankoo and Executive Engineer SVD Sankoo.