EC Razvi inaugurates free ration distribution under PMGKAY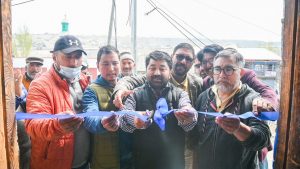 KARGIL, APRIL 13, 2022: Executive Councillor for Food and Supplies, LAHDC, Kargil, Aga Syed Abbass Razvi today inaugurated free distribution of grains under Pradhan Mantri Garib Kalyan Anna Yojana (PMGKAY) among beneficiaries at Baroo and Kargil town.
The Food Civil Supplies and Consumer Affairs Department, Kargil launched the free distribution of 5 kg rice/wheat per soul per month from April 2022 to Priority House Holds (PHH) and Antyodaya Anna Yojana (AAY) beneficiaries.
Officials of the department informed that in Kargil district, there are 83,728 beneficiaries including both AAY and PHH.
EC Syed Abass instructed the public to be aware of various benefits entitled to them under various government-sponsored schemes. He further urged the public to collect their ration from concerned stores.On the occasion, Chief Inspector, Muhammad Yusuf, Chief Inspector Akbar Ali and Tehsil Supply Officer among other officials of the department were present.