EC Punchok Tashi takes stock of ongoing developmental works around Duzin Photang Zanskar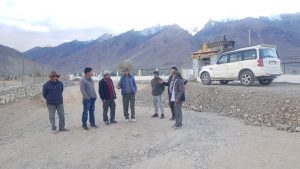 KARGIL, SEPTEMBER 27, 2021: Executive Councilor for Tourism and Zanskar Affairs Er Punchok Tashi on Sunday took stock of the ongoing developmental works around Duzin Photang Zanskar including the construction of road by Public Works Department (PWD) and Photang Gate by Zanskar Development Authority.
Assistant Executive Engineers of PWD Division Zanskar and Zanskar Development Authority besides other concerned officers were present on the occasion.
EC Tashi stressed the concerned officers to ensure completion of the ongoing works within the stipulated timelines while also taking due care of quality and quantity parameters. He also appreciated the new executive body of Zanskar Buddhist Association for their role in facilitating developmental activities around the Photang Complex.
The EC Zanskar Affairs said that the LAHDC, Kargil under the able leadership of the CEC Feroz Ahmad Khan is committed towards the development of Zanskar in all sectors.