EC Punchok Tashi participates in event organized by Rural Development Department for NRLM Self Help Groups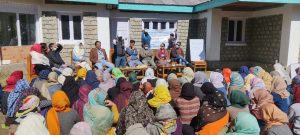 KARGIL, OCTOBER 12, 2021: Executive Councilor for Rural Development and Panchayati Raj Er Punchok Tashi today participated in a program organized by the Department of Rural Development Kargil for NRLM Self Help Groups (SHGs) at Sankoo.
The awareness program was conducted through the Rural Self Employment Training Institute (RSETI) Kargil in collaboration with State Bank of India and Jammu and Kashmir Bank Sankoo.
The objective of the program was to impart awareness to SHG members about various finance schemes available with banks and to link the account of SHGs with the banks.
Speaking to the members of the SHGs, EC Punchok Tashi stressed that they should make serious efforts to adopt innovative technologies in order to improve rural livelihood which is the mission of the Central Government. He said the need of the hour is to strengthen SHGs in rural areas, especially focusing on agriculture as a livelihood for which cash crops should be grown, and focus should be laid to bring out products like jam, juice, pickles etc.
The EC Rural Development also spoke about Lahoul Potato Society (LPS), a successful cooperative movement being run in Lahoul Spiti region of Himachal Pradesh. He said that the chairman of LPS is visiting Kargil soon to participate in a district level farmers' meet to share his experiences and success story, adding he urged the SHGs to participate in such programs to get exposure.
ACD Kargil Ghulam Muhammad in his address advocated the need for eradication of poverty through NRLM activities, and impressed upon members to practically work individually as well as at the group level.
Meanwhile, the Manager RSETI Muhammad Shafi spoke about the importance of the development of livelihood activities through credit linkage with banks.