EC Mohsin Ali takes stock of progress achieved on developmental works during 2021-2022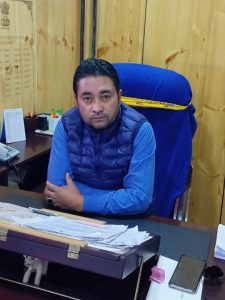 KARGIL, OCTOBER 13, 2021: In order to take stock of the status of various ongoing developmental works under different schemes during the financial year 2021-2022, Executive Councilor Health and Agriculture Mohsin Ali convened a meeting of the concerned officers here today.
The concerned officers from the respective departments apprised the EC about the physical and financial progress achieved till ending September, 2021.
EC Mohsin Ali directed the officers to accelerate the pace of developmental works in order to achieve 100% expenditure during the current financial year, and to avoid liabilities to be reflected in the next year budget.
The EC Health also directed the concerned officers to personally monitor the ongoing works on ground to ensure adherence of quality and quantity parameters.
Meanwhile, the concerned officer raised various issues to which the EC gave a patient hearing and assured early redressal.