EC Mohsin Ali takes stock of post flash flood situation in Shakar Chiktan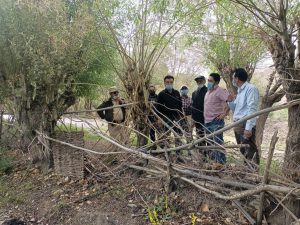 KARGIL, JULY 28, 2021: In order to asses the damages caused due to the recent flash floods in Shakar Chiktan, Executive Councilor for Revenue Mohsin Ali who is also the Councilor of Chiktan Constituency visited various villages of the block here today.
Mohsin Ali along with the public representatives and concerned officers visited Charaks, Stakchey, Mangmore, Dachey, Pargue and Samrah villages this morning and took assesment of the ground situation in view of the flash floods and subsequent mud slides.
During the visit to Stakchey village, the EC Revenue was informed about the extent of damages to crops, irrigation kuls and the electric lines which have been partially damaged.
The EC was further informed that the drinking water facilities of the affected villages have also got damaged and restoration works are going on besides the electric supplies in the entire Sub Division including Kukshow village has been restored.
Meanwhile, on the direction of the EC Revenue, clearance work of road from Khangral to Samrah was started by the Beacon authorities today morning and the road has now been cleared for all types of vehicular traffic.
EC Mohsin Ali appreciated the road clearance works executed by the employees of Electric Department and Beacon authorities. He further directed the revenue authorities to prepare necessary assessment to the loss of property so that relief can be provided to the affected families under Disaster Management.
EC Mohsin was informed that no flood has occured in the villages from Chiktan to Sanjak including Kukshow-Dargoo belt till now.
Councilor Stakchay Khangral Haji Muhammad Qasim, Nominated Councilor Padma Dorjey, Assistant Commissioner Revenue Kargil Abdul Gaffar Zagar, Sub Divisional Magistrate Shakar Chiktan Muhammad Shareef, Tehsildar Shakar Chiktan Kacho Asgar Ali Khan, In Charge Police Post Khangral and Chiktan, Junior Engineer, I&FC, Kargil and other concerned officials accompanied the EC Revenue during the visit.