EC Mohsin Ali takes stock of developmental works in Shakar Chiktan Sub Division, Shargole Constituency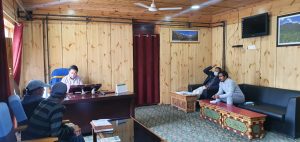 KARGIL, AUGUST 31, 2021: Executive Councilor for Agriculture and Health Mohsin Ali in presence of the Former Executive Councilor and Councilor Shargole Constituency Muhammad Ali Chandan today convened a meeting with the officers of the concerned departments to take stock of the status of developmental works in Shakar Chiktan Sub Division and Shargole Constituency under different components and schemes.
Executive Engineers, Assistant Executive Engineers and Junior Engineers of R&B-II, PHE, I&FC besides other officers of the concerned departments were present durring the meeting.
EC Mohsin Ali and Councilor Shargole Muhammad Ali Chandan while expressing satisfaction over the progress achieved so far on the execution of developmental works directed the concerned officers to speed up the pace of works keeping in view the limited working season.
The officers were further instructed to acknowledge the suggestions and views of the local representatives and PRI members to avoid any hindrance in the execution of the works on the ground level.
The EC Health also directed the officers concerned to apprise the local representatives about the status of works at regular intervals. He also directed them to complete the various developmental works during the current financial year as per the targets fixed by the department besides also to ensure that the sanctioned funds are properly spent for the purpose they are meant to avoid any liabilities during the next year budget.