EC Mohsin Ali takes stock of clearance on Pachari Road Road expected to be cleared by today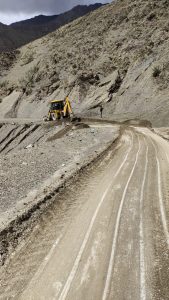 KARGIL, AUGUST 03, 2021: Executive Councilor for Health Mohsin Ali today visited Pachari where the road clearance is presently under progress after the Pachari Road was blocked at several locations in the aftermath of flash floods.
EC Mohsin Ali said that keeping in view the pace of clearance, the road will be reconnected today. He also hailed the efforts of the engineers and operators of the concerned department in the road clearance works.