EC Mohsin Ali flags off 7-day visit of female farmers to Kashmir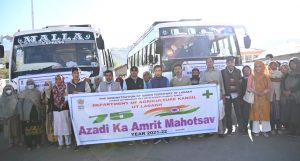 KARGIL, SEPTEMBER 26, 2021: The Department of Agriculture Kargil UT Ladakh on Sunday flagged off a group of 70 female farmers for a week-long visit cum training tour to Kashmir in order to enlighten them about the techniques of agriculture and adopt the same.
The tour of farmers was flagged off by the Executive Counsellor for Agriculture Mohsin Ali in presence of senior officials of the agriculture department and farmers.
"The objective of the tour is to impart awareness to farmers hailing from far off places. They will be exposed to a number of agriculture activities that they are not aware of. After that they will adopt the same in their farms," the EC said.
This is for the third time the Department of Agriculture Kargil is sending farmers to Kashmir for training.
EC Mohsin Ali said that the Union Territory Administration Ladakh is working to make Ladakh organic and it is the target of the government to make the UT organic by 2025 for which a Memorandum of Understanding (MoU) has been signed.
He said that preference has been given to female farmers for the tour only because they go to the agriculture fields, adding he said that they will be imparted awareness various ways to enhance farm productivity so that they can adopt the same in the local farms.
On the occasion, Chief Agriculture Officer, Kargil Kacho Muhammad Ali Khan said the motive of the tour is to expose the local farmers about the innovative techniques and use of technology in farming in Kashmir.
During the week-long tour he said that the farmers will visit different agriculture universities like SKUAST and also Lal Mandi and Manasbal Dairy Farm.
Pertinently, the program is being organized as part of celebrations of Azadi Ka Amrit Mohoutsav-75th Year of India's Independence.