EC Mohsin Ali distributes free edu tabs among students under YounTab scheme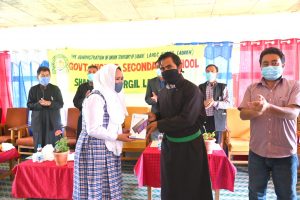 KARGIL, AUGUST 23, 2021: Executive Councilor for Health Mohsin Ali distributed free tablets among the students of 12th class at Government Higher Secondary School Shargole here today.
The free educational tablets have been provided to the students under Ladakh Zgo Zgoa Yountan Yountab Scheme 2021 by the Department of Education UT Ladakh.
Former Executive Councilor and Councilor Shargole Constituency Muhammad Ali Chandan, Block Development Council (BDC) Chairperson Shargole Tsering Nurboo, District Education Planning Officer (DEPO) Kargil Haji Muhammad Amin, Tehsildar Shargole Sonam Joldan, Principal Ishay Namgyal, staff members, parents and students were present during the distribution ceremony.
EC Mohsin Ali while speaking on the occasion congratulated students on getting the free educational tablets with pre-loaded content. He stressed upon the students to get maximum benefits of the available technology.
Mohsin Ali said that the Yountan Yountab initiative of the UT Administration is laudable which will go a long way in further improving the overall standard of education in the region.
Highlighting the initiatives of the LAHDC Kargil for improvement of education sector in the district, the EC Health said that under the able leadership of the CEC, LAHDC Kargil all efforts are being made to provide maximum learning opportunities to the students in the wake of the COVID-19 pandemic by opening schools for higher classes. He also recounted the successful conduct of the community classes in the district to cater to the academic needs of the children, and hailed the selfless services rendered by the volunteers and teachers for successful conduct of these classes.
The EC Health also assured that the Administration is fully committed to ensure every possible measure to provide students with basic facilities for education and also hailed the efforts of the school staff, teachers and principal for taking up collaborative efforts to provide education for the students in these tough times.
Former Executive Councillor and Councillor Shargole Muhammad Ali Chandan while highlighting the importance of education in uplifting social and economic status said education is the only medium through which any height is achievable. He also stressed students to have a vision in their academics and set goals accordingly, adding the remaining tablets will be distributed to the students from 6th to 12th classes within a period of 2 months.
Meanwhile, the School Management and Development Committee put forward certain demands related to the improvement of the school like submersible pump for drinking water, construction of separate all-weather toilet complex for boys and girls, construction of two additional class rooms and other related issues.
The EC Health assured to consider all demands for suitable follow up measures.