CEC Feroz Khan reviews status of on-going works under RAPDRP, PMDP (Urban) in Kargil Town Directs to complete works within stipulated timelines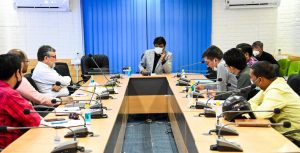 KARGIL AUGUST 23, 2021: Chairman and Chief Executive Councilor, LAHDC, Kargil Feroz Ahmad Khan chaired a meeting to review the status of electrification works/ installation of electricity poles going on in Kargil Town under Restructured Accelerated Power Development and Reforms Programme (RAPDRP) and Prime Minister's Development Package (PMDP) (Urban) schemes here today.
Councilor Kargil Town Haji Muhammad Abbas, Chief Engineer PDD Ladakh Ghulam Ahmad Mir, Executive Engineer PDD Kargil Altaf Hussain, Deputy Manager Rural Electrification Corporation, PDCL and concerned officers of PDD and PDCL were present during the meeting.
CEC Feroz Khan while expressing concern over the slow pace of work in the implementation of works directed the concerned officers to work seriously for completion of the assigned works. He directed them to clear the works under RAPDRP by October of this year and suggested to consult the public representatives in case of disputes.
CEC Khan also directed the executing agencies to conduct on spot visit of the work sites with the Councillor Town to get clarity of the ground situation.
The meeting was informed that under IPDS, 36 electric poles have been installed so far while Baroo 2nd and 3rd have also been included under the scheme.
Regarding disputes at 4 sites in Baroo under IPDS, the CEC directed the concerned officers to consult the public representatives and complete these works by 31st August 2021 besides the LT lines by 7th September, 2021.
Councilor Town Haji Muhammad Abbas said that under PMDP (Urban) marginal works have been done in the Kargil town, and at few localities such as the Old Market, disorganized electric connections are a potential threat for public which needs to be rectified and streamlined.
CEC Feroz Khan directed the concerned officers to ensure completion of the PMDP works in Kargil Town within the stipulated timelines, adding he also asked them to check the feasibility of the new electric lines towards the Gongma Kargil Nallah.
The CEC also took the status of DTs works under PMDP and directed the concerned officers to clear the pendencies. He also instructed them to complete the HT, DT and LT works at the earliest possibility as the voltage issue will be sorted by installation of DTs.
CEC Khan also directed to completely charge up the already installed transformers and new transformers. While taking stock of the status of works on the Sub Station (Receiving Station) at Radio Station Kargil, he directed the concerned agencies to kick start the work at the earliest possibility and complete the project by October, 2021.
Meanwhile, the concerned officers apprised the CEC that there is need of land allocation for establishment of 2 more sub stations of 10 kanals each in Kargil Town, and replacement of conductor of Barchay-Lalung line to which the CEC assured that the matter will be taken up with the concerned agencies.