EC Mohsin Ali calls on LG RK Mathur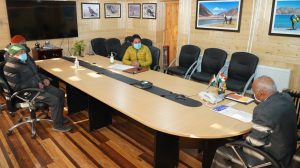 kARGIL, FEBRUARY 09, 2022: Executive Councilor for Health, Agriculture, Forest & Revenue, LAHDC, Kargil, Mohsin Ali along with a delegation comprising of Panch, Naib Sarpanch of Kukshow village called on Lieutenant Governor, UT Ladakh RK Mathur at Raj Niwas on Tuesday.
The EC apprised the LG about various issues related to Health, Wildlife, Agriculture & Forest department in Kargil and his constituency Chiktan and put forth various demands.
The EC demanded sanction of additional funds for completion of the infrastructure of 300 bedded hospital and filling of vacant posts at DH, SDH, CHC's & PHC's.
The demands include sanction of compensation to families affected by the damage to their livestock by Snow Leopard and Brown Bear. Sanction of funds for carrying out Brown Bear mitigation Plan.
EC Mohsin also raised the issue of deputation of Forest Protection Force employees to Wildlife Protection Division Kargil.
He also put forth the demand for the establishment of the National Research Centre and Gamma Radiation Centre on Apricot at Kargil.
Sanction of sufficient funds for germinated Project Juniper and repairing of existing VSAT and Mobile Towers at Kukshow and Hagnis villages, Lift Water Scheme for Kukshow and Hagnis villages to irrigate the fields and renovation of Chiktan Razi Khar were also raised.
The Lieutenant Governor gave a patient hearing to the issues and assured the EC that the UT Administration would provide compensation to the families affected by damage to their livestock.
The LG further stated that the UT administration has initiated steps to tackle the codling moth for the preservation of Apricot, besides there is a plan to plant Juniper saplings in both Leh and Kargil districts.