EC Mehdi convenes meeting to discuss Eid celebration Appeals public to celebrate Eid at home this year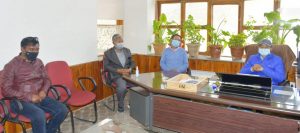 Leh, May 10: An important meeting was held today on under the chairmanship of Executive Councilor for Minority Affairs, LAHDC Leh, Ghulam Mehdi Ashoor, which was attended by Vice President, Anjuman-e-Imamia, Mehboob Ali; President Anjuman Moin-Ul-Islam, Dr Abdul Qayum along with Imam e Jumma Noorbakshia Sofia Akhon Abbass; Councilor Chuchot, Mirza Hussain; Nominated Councilor, Mumtaz Hussain and Member of Maulana Azad Education Foundation, Ashraf Ali Sheikh.
The meeting discussed all aspects of the Eid celebration in view of the current Covid-19 pandemic situation in Leh. It was unanimously decided to avoid social and religious gatherings during Eid-ul-Fitr in Leh district. All the officials and religious heads appeal to the general public of Leh district to offer Eid Namaz and celebrate Eid at their own homes this year.
Whereas, EC Mehdi has urged the Department of PHE and PDD to ensure uninterrupted essential services in all the Muslim populated area. Similarly, the District Administration will ensure the supply of essential commodities like vegetables, Mutton, and Chicken to the Muslim populated areas via Mobile Vans.