EC Health Mohsin Ali distributes YounTab Edu Tabs among students at GHS Hagnis Announces Rs 1 lakh for development of the school out of his CCDF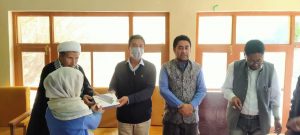 KARGIL, SEPTEMBER 29, 2021: Executive Councillor for Health and Agriculture Mohsin Ali distributed free educational tablets under YounTab scheme among students of classes 7th to 10th at Government High School (GHS) Hagnis here today.
On the occasion In-charge SDM and Tehsildar Shakar-Chiktan Kacho Asgar Ali Khan, ZEPO Chiktan, In-charge Head Master, General Secretary Ladakh Taekwondo Association Anayat Ali, International Taekwondo Player Tashi Tundup besides parents and students were present on the occasion.
Speaking on the occasion EC Mohsin Ali said that in Ladakh YounTab Scheme is providing ample opportunities to the student fraternity to be in touch with their studies as per syllabus even if there is no internet facility.
He stressed that the facilities provided by the UT Administration must be utilized properly and judiciously and added that in the UT set up there is no dearth of funds for any project to complete.
Appreciating the efforts of the teachers of the school, the EC Health who is also the Councillor of Hagnis Constituency announced Rs 1 lakh for the development of the school out of his Councillor Constituency Development Fund (CCDF). He urged students to do their best in their growing years so that they can contribute towards the society and the nation as responsible citizens.
Responding to the demands put before him by school administration, EC Mohsin Ali assured that the issues like dismantling of old building and auctioning process will be taken soon as the case has been referred to Deputy Commissioner Kargil office already.
The problem of water supply and electricity supply will also be addressed soon in a better way, the EC assured.