EC Culture inaugurates 'Nadi Utsav' in Leh Urges locals to keep river Indus clean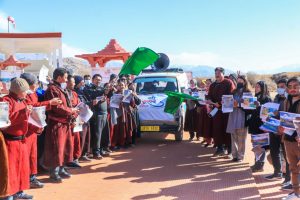 Leh, Dec 18: Executive Councillor for Art and Culture, LAHDC Leh, Stanzin Chosphel inaugurated a week-long campaign 'Nadi Utsav' River festival under the theme of "Celebrating our lifeline" organised by the Department of Irrigation and Flood Control, Leh. The festival is an initiative by the Ministry of Jal Shakti and the Ministry of Culture, Govt of India under the banner of Azadi Ka Amrit Mahotsav celebrating the 75 glorious years of Independence. Venerable monks from the Likir Monastery conducted a prayer ceremony for preserving the sanctity of the river.
EC Chosphel appreciated officials of the Department of I&FC Leh for organising such campaigns to raise awareness among the people about preserving the sanctity of our rivers. He stressed the significance of cleaning the river Indus and its tributaries and added that the message of this campaign should reach every village in the district. He further requested every household and other establishments near the Indus river to avoid any form of water pollution.
Appreciating the Ganga Utsav and its success, EC Chosphel advised that Leh district should become the model of preserving the sanctity of the river Indus. He along with the Xen Irrigation, flagged off a vehicle carrying pre recorded slogans of water cleanliness that would carry the message of the campaign for a week in the villages of Leh district.
The officials of the I&FC Department led by the Executive Engineer were also present at the inaugural event of the campaign today.